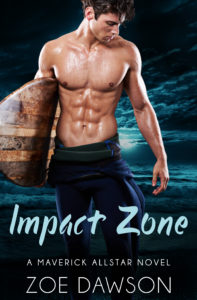 The athletes agented by Mavrick Allstars aren't the only things heating up the sports agency. Zoe Dawson's series continues with more gripping, heartfelt romance as the smart, talented, and sassy female agents continue to pursue their passion for both their profession and their clients.
It's no secret Trista Jordan has coveted signing Falcon Dane. As one of the newer agents, she has something to prove at the internationally renowned agency. But she knows that taking on Falcon will either make her or break her. She's determined to get the contract and snag all that explosive and muscled raw talent to rep him to the extreme. Her challenges: keep her hands off his gorgeous body and discover the core of his anger—because the mighty has fallen.
Professional surfer Falcon Dane, once at the top of his sport, struggles with an injury he sustained in a terrible car crash that fractured his pelvis, an accident that left his mother paralyzed. With Trista at the helm, she could help him spark a comeback that will leave both his competitors and sponsors breathless. But the key to success is in his tragic past and the accident that changed his world. Only he can restore the balance he so desperately needs to excel.
But when Trista becomes much more than his agent and he has to delve deep inside to find the real source of his anger, can he risk everything on her?
Add to Goodreads Shelf
Books in this series:
Ramping Up, Book #1
Impact Zone, Book #2
Epic Lines, Book #3
Save
Save
Save
Save
Save
Save
Save