Out Now!
The Starbuck Chronicles: AfterLife is released!
This book is a complete 360 to what I normally write. I got this idea about three years ago and put it on the back burner to get my feet wet in self-publishing with romance. It's not that this book doesn't have romance in it. It does. It's just part of me. But, Lily has choices and they're tough choices. Who will you be rooting for? Of course, to have any kind of love life, Lily has to survive and that's her biggest challenge in this world gone mad!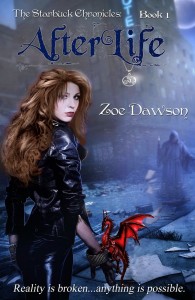 Cover Design by the fabulous Jessica Allain Art

Please take a moment to add AfterLife to your Goodreads Shelf
Where to buy:

Genre: Urban Fantasy
Release Date:  Now
Description:
In this world gone mad……Lily's biggest challenge is to survive.
Lily Starbuck, kick-ass witch caterer, knows that a day that starts with blood on the horizon is a terrible omen. The day goes downhill from there when a grumpy werewolf refuses to pay his catering bill, her partner cleaned out their bank accounts, and Lily finds her murdered in their kitchen. To make matters worse, the Fairy Dust Administration (FDA) is sniffing around. Fae dust hounds hot on her partner's trail for dealing in illegal dust now turn their attention to her. Their sexy Fae leader takes a particular interest in her and is hard to shake.
Heartbroken, flat broke and with her very livelihood in jeopardy, she discovers that the formidable Otherworlder Security (OS) is being tampered with. With no active investigation and a missing body, she has no choice but to discover who killed her partner. Her only backup is a cantankerous gnome who delights in going invisible on her. Clues lead her to an open case being investigated by a tough OS warden shapeshifter. It seems a rogue mage has created a video game that is unwarded and game monsters are being released to terrorize the human and supernatural citizens of Minneapolis/St. Paul. Trouble is Lily has reason to believe that this mage killed her partner. Looks like Lily will have to make a deal with a vamp devil and battle wits with the Twin Cities most powerful leader all in the name of justice.