The last but not least Outlaw brother is about to meet his match. River Pearl Sutton has always had a "thing" for Braxton Outlaw, the skirt chaser of the three brothers. She needs his help at the end of the summer to prepare for her Founder's Day speech. What she doesn't bargain for is how deep she gets into a relationship with him knowing that she's heading straight for heartache. That Outlaw boy has his reasons for keeping his distance.
Without further ado, here is the cover.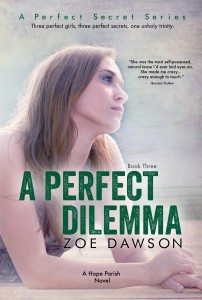 This cover was designed by the fabulous  Sarah Hansen at Okay Creations.

Please take a moment to add A Perfect Dilemma to your Goodreads Shelf!
Genre:  New Adult Contemporary
Release Date:  February 17, 2014
Description:
The one secret she can't stand to keep is the one she can't afford to tell.
The perfect little rich girl, River Pearl Sutton has always done what her family expected of her. She'd become the perfect little beauty queen, the perfect child model and now her global success locks her into a life she never really chose.
Coming home for the summer to prepare for the Founder's Day Festival, a celebration of her lauded ancestor, she is tasked by her father to write a speech to be delivered at the end of the party.
Returning to Hope Parish brings her back into close proximity with sweet-talking, skirt-chasing Braxton Outlaw, the boy who always seemed immune to her charms in high school. But now he looks at her with those challenging blue eyes, both intimidating and seductive at the same time. Using research of her family lineage and his as way to get close to this bad boy, they fall into a hot, torrid affair.
She stumbles across a terrible secret that could bring to ruin not only her reputation, but the reputation and standing of her family. But when her infatuation with Brax grows into something that she can't live without, she must decide what to do. Keep the secret and lose Brax or destroy her family and lose them.
It's an awful, heartrending perfect dilemma